First a question, "how many homes were sold in Ballincollig in 2022?"
If you guessed 120, you were correct.
In the following article Con Nagle of Global Properties gives a quick rundown of the property market in Ballincollig in 2022. For a more in-depth analysis of what this means for your property, just give Con a call (021-4877133).
Let's start with a brief look back at the property market in Ballincollig in 2022 and look to see where it is heading in 2023.
The highest price paid for a house in Ballincollig in 2022 was a whopping €1,050,000 for Coolroe House in a sale that closed on Valentine's Day. Coolroe House was one of the oldest homes in Ballincollig dating from 1865 was described as being 3,000sq. ft. and was on just short of 1 acre of gardens.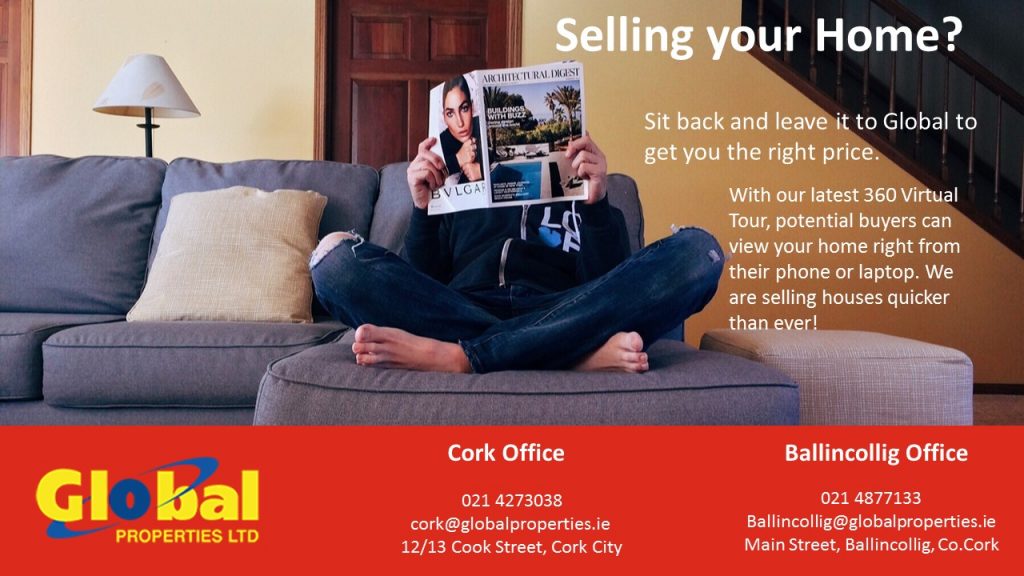 Other notable sales were "Shadow Lane" at Poulavone which was sold for €910,000, and 49 Fernwalk Greenfields, which made €920,000.
If these prices faze you, don't fear, the average price for a four bed semi-detached home ranged from approximately €375,000 to €400,000. Three bedroomed homes typically ranged from €275,000 to €350,000, depending on age, Building Energy Rating and location.
Apartments in Ballincollig can be picked up from €210,000, with the average price more likely to be €250,000 at the end of the year.
Where were the most sales? Old Quarter (which included Leslies Arch, Waltham Abbey, Millers Court and Coopers Grange) was the most popular address, with 17 sales. The sales prices ranged from €282,000 for an apartment to €640,000 for a detached home in Old Quarter.
In Coolroe Meadows (The Lawn, The Green, The Close) there were 11 sales, and these ranged from €325,000 at The Lawn to €430,000 at The Green. An Caislean, and the Cloisters were also popular.
For those looking for bungalows, only seven changed hands in 2022, with three of these in Glincool, says Barry Nagle, director of Global Properties.
To summarise the year just past, residential property prices continued to rise at a strong pace for the first half of the year, with a levelling off of price increases in the last few months. There has been a noticeable slowdown in the Autumn with potential buyers worried about interest rate increases, energy prices and inflation.. But at the end of the day, paying a mortgage is still much cheaper than renting, so many buyers have continued with their journey towards homeownership.
Where is the market going in 2023? Demand for homes in Ballincollig is very strong, and while increases in interest rates will slow down demand to some degree, the excellent jobs market (with extremely low unemployment), and very few new homes being built in 2023 will lead to increases in prices. Property will probably take slightly longer to go sale agreed, but at the end of the day we predict about a 5% increase in property prices locally.
Residential Lettings are very popular in Ballincollig. There are many high paying jobs within a short distance, so demand is strong. Dell, VMware, Apple, UCC, MTU, are among those employers, to name but a few.
Many go it alone landlords, have fallen foul of RPZ legislation and poor tenant selection, and this has cost them dearly. Letting homes and tenant selection is a specialist job these days. Letting homes to quality tenants is a specialised service which Con Nagle of Global properties says is part of the service that Global offer to many landlords.
Hiring an agent who has their finger on the pulse of the market will make your selling or letting experience an educated one. You need someone who is going to tell you the truth, not just what they think you want to hear.
If you are thinking of selling or letting a property, call or email for a no obligation free market appraisal.
Feel free to contact Con Nagle or Barry Nagle with any property related query in 2023. We've been advising people about property in Cork for more than 25 years each.
We can be contacted on 021 4877133 or 021 4273038